Secondary Carbon Steel Seamless Pipe Importer
Second Choice Carbon Steel Seamless Pipes Buyer, Surplus CS Seamless Pipe Purchaser, Purchaser of Excess Quantity Carbon Steel ASTM A106 Seamless Pipes in India, Secondary Carbon Steel Seamless Pipes Purchaser in Mumbai.
APN Steel deals in importing Secondary / Excess Quantities of Carbon Steel Seamless Pipe. We have authentic and reliable Carbon Steel Seamless pipes, as well as technical guidance is given for these Secondary Pipes, along with product specifications, and value-creating solutions. In addition to checking the structural abilities and other properties of the Pipe, we ensure that only high-class products are imported. The materials utilized in the process come in a variety of grades and standards, including ASTM and DIN. These Carbon Steel Seamless Pipes come in sizes ranging from 50 MM OD to 800 MM OD, having a wall thickness of 5 MM and more. We ensure that all products purchased from the suppliers are certified and comply with all national and international quality standards. We offer loose or bundled packaging on these Pipes following shot blasting, coating, and varnishing.
These Pipes are tested to check their pressure resistance before they are used for pressure applications. In some cases, these Carbon Steel Seamless pipes can be used in lower-pressured applications such as gas, oil, or water transportation. Cement, chemicals, dairy, food processing, fertilizers, heat exchangers, railways, shipbuilding, solvent and pulp companies, submersible pump companies, sugar mills, textile machinery, and processing houses are a few areas utilizing these pipes. We have a huge stock of these pipes in many sizes, offered at competitive prices along with the fastest mode of transport for prompt deliveries.
Buy Secondary Quality Carbon Steel Pipes- Supply is Our Specialty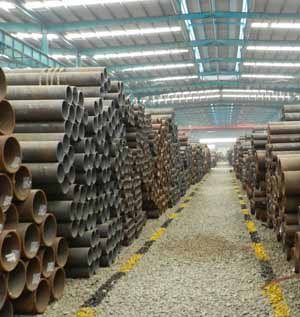 SECONDARY CARBON STEEL SEAMLESS PIPE SPECIFICATION
Specifications : ASTM A106 GR. B & C/ ASTM A53 GR. B & C/, ASTM A333 GR. 3/6 & API-5L-GR. B/X42/X46/X52/X60/X65/X75 & ASTM A 671 / 672 GR CB60 / CB60 / CC60 / CC65 / CC70 / CD70 CLASS 10 UPTO 43, etc. JIS G3454, G3455, G3456
Dimensions : ASTM, ASME and API
Size : 50 mm OD To 800 mm OD In Wall Thickness of 5 mm And Above In All Grades
End : Plain End, Beveled End, Treaded
Length : Single Random, Double Random & Required Length, Custom Size
Buyer Of Secondary / Second Choice / Surplus / Excess Quantity Carbon Steel Seamless Pipes
| | |
| --- | --- |
| Excess Quantity Carbon Steel Seamless Pipes Importer | Surplus Carbon Steel Seamless Pipes Customer |
| Second Choice Carbon Steel Seamless pipes Importer | Secondary Low Carbon Steel Seamless pipes Buyer |
| ASTM S/A 53 Gr B Surplus Seamless Pipes Buyer in Mumbai | ASTM S/A 106 CS Excess Quantity Seamless Pipes Importer in India |
| Second Choice Carbon Steel Seamless Pipes Buyer | Excess Quantity Seamless Black Steel Pipes Importer |
| Surplus Carbon Steel Second Choice Seamless Pipes Importer | Secondary Carbon Steel Seamless Pipes Customer |
| Secondary Carbon Steel Schedule 40 Seamless pipes Importer | Surplus Carbon Steel Seamless Pipes Importer |
| Seamless Carbon Steel Schedule 80 Pipes Importer in Mumbai | Excess Quantity CS Seamless Pipes Purchaser in India |
| Surplus Black and Galvanized Steel Seamless Pipes Importer | Second Choice Carbon Seamless Pipes Customer |
| Seamless Black Carbon Steel Excess Quantity Pipes Importer | Secondary Large Diameter Carbon Steel Seamless Pipes Buyer |
| Surplus Carbon Steel Seamless Pipes Purchaser | Second Quality Carbon Steel Surplus Seamless Pipes Buyer |
| ASTM A106 Gr B Surplus CS Seamless Pipes Importer | Excess Quantity Carbon Steel Seamless Pipes Purchaser |
| Secondary Carbon Steel High Yield Seamless Pipes Buyer in Mumbai | ASTM A53 Carbon Steel Second Choice Seamless Pipes Purchaser in India |
Carbon Steel Surplus Seamless Pipes
We Buy a broad range of Secondary / Second Choice / Surplus / Excess Quantity Carbon Steel Seamless Pipes through a worldwide networks. These Carbon Steel Seamless Pipes used in various industries like :
• Second Choice Carbon Steel Seamless Pipe in Oil and Gas Pipeline
• Carbon Steel Seamless Pipe used and Excess in Chemical Industry
• Secondary CS Seamless Pipe used and Excess in Plumbing
• CS ASME SA53 Grade B Seamless Pipe used and Excess in Heating
• ASME SA106 Gr B Carbon Steel Seamless Pipe used and Excess in Water Supply Systems
• Buyer of Carbon Steel Seamless Pipe used and Excess Quantity in Power Plant
• CS Seamless Pipe used and Excess in Paper & Pulp Industry
• Importer of Surplus CS Seamless Pipe in General Purpose Applications
• Carbon Steel Seamless Pipe used and Excess in Fabrication Industry

Import Destinations of Secondary / Second Choice / Surplus / Excess Quantity Carbon Steel Seamless Pipes
MIDDLE EAST

» Saudi Arabia
» Iran
» Iraq
» Uae
» Qatar
» Bahrain
» Oman
» Kuwait
» Turkey
» Yemen
» Syria
» Jordan
» Cyprus


AFRICA

» Nigeria
» Algeria
» Angola
» South Africa
» Libya
» Egypt
» Sudan
» Equatorial Guinea
» The Republic Of Congo
» Gabon


NORTH AMERICA

» Usa
» Canada
» Mexico
» Panama
» Costa Rica
» Puerto Rica
» Trinidad And Tobago
» Jamaica
» Bahamas
» Denmark

EUROPE

» Russia
» Norway
» Germany
» France
» Italy
» Uk
» Spain
» Ukraine
» Netherland
» Belgium
» Greece
» Czech Republic
» Portugal
» Hungary
» Albania
» Austria
» Switzerland
» Slovakia
» Finland
» Ireland
» Croatia
» Slovenia
» Malta

ASIA

» India
» Singapore
» Malaysia
» Indonesia
» Thailand
» Vietnam
» South Korea
» Japan
» Sri Lanka
» Maldives
» Bangladesh
» Mayanmar
» Taiwan
» Cambodia

SOUTH AMERICA

» Argentina
» Bolivia
» Brazil
» Chile
» Venezuela
» Colombia
» Ecuador
» Guyana
» Paraguay
» Uruguay
Secondary Carbon Steel High Yield Seamless Pipes Buyer | ASTM A53 Carbon Steel Second Choice Seamless Pipes Purchaser | ASTM A106 Gr B Surplus CS Seamless Pipes Importer | Excess Quantity Carbon Steel Seamless Pipes Purchaser | ASTM S/A 53 Gr B Surplus Seamless Pipes Buyer | ASTM S/A 106 CS Excess Quantity Seamless Pipes Importer | Seamless Black Carbon Steel Excess Quantity Pipes Importer | Secondary Large Diameter Carbon Steel Seamless Pipes Buyer
If you're looking for a trusted and reliable supplier of Secondary / Second Choice / Surplus / Excess Quantity Carbon Steel Seamless Pipe Importer then call APOLLON STEEL INC today on +91 22 6659 5932 / 2381 2828, Email: info@apnsteel.com