Secondary Alloy Steel Seamless Pipe Importer
Purchaser of Excess Quantity Cr-Mo Seamless Pipes, Second Choice Alloy Steel Seamless Pipes Buyer, Surplus Chromium Moly Seamless Pipe Purchaser in India, Secondary Alloy Steel Seamless Pipes Purchaser in Mumbai.
Then APN Steel is a notable importer of Second Choice and Surplus Alloy Steel Seamless Pipes in high-quality. We also stock machined or fabricated components built from our product suppliers worldwide. We import secondary steel pipes from all around the world. We deal in all grades of Alloy steel pipes and other products, including prime, used, unused, scrap, surplus, and secondary metal. Tight tolerance, length, carbon equivalent, corrosion qualities, pricing list, Variation, Density, and Technical delivery condition are been checked before importing.
Our products are delivered in a wide range of steel grades and dimensions in accordance with applicable standards as well as client specifications. These Alloy Steel Seamless pipes that we provide are widely valued in the market due to their heat resistance. We supply Alloy Steel Seamless Pipes in sizes ranging from 1/2" to 24" NB in Sch 40 to Sch XXS, and in various wall thicknesses.
It has strong corrosion resistance and may be employed in a variety of industrial areas. These Alloy Steel Seamless Pipes are commonly used in energy-related applications such as oil and gas drilling and are subjected to strains in machine components. As a consequence, these Alloy Steel Seamless pipes created here are utilized in a wide range of sectors, including refineries, thermal, oil and gas, nuclear, solar power plants, defense, aerospace, and atomic energy. Alloy steel seamless pipe is appropriate for chemical, petrochemical, and energy-related applications. In addition, their low prices and prompt delivery, as well as our capacity to satisfy large orders, have earned us a reputation globally.
Buy Secondary Quality Alloy Steel Pipes- Supply is Our Specialty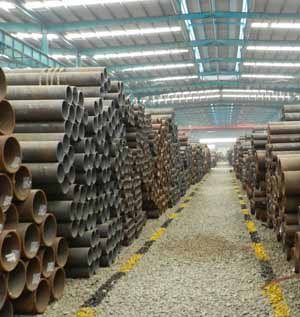 Specifications of Alloy Steel Seamless Pipe We Import
Specifications : ASTM A335 / ASME SA335
Schedule : SCH40, STD, SCH80, XS, SCH60, SCH80, SCH120, SCH140, SCH160, XXS and above
Size : 1/2"NB To 24"NB
Type : Seamless
Form : Round Pipes, Square Pipes, Rectangular Pipes etc.
End : Plain End, Beveled End, Treaded
Length : Single Random, Double Random & Required Length, Custom Size etc.
We Buy Secondary / Second Choice / Surplus / Excess Quantity Chromium Moly Seamless Pipes Like
| | |
| --- | --- |
| Alloy Steel Schedule 40 Surplus Seamless pipes Importer | Excess Quantity Alloy Steel P1 Seamless Pipes Importer |
| Excess Quantity Chromium Moly Seamless Pipes Purchaser | Black and Galvanized Alloy Steel Surplus Seamless Pipes |
| Surplus Alloy Steel P5 Seamless Pipes Customer | Excess Quantity Seamless Black Alloy Steel Pipes Importer |
| Surplus Large Diameter Alloy Steel Seamless Pipes Buyer | ASTM S/A 335 Gr P22 Secondary Seamless Pipes Buyer |
| ASTM S/A 335 Excess Quantity Alloy Steel Seamless Pipes Importer | Excess Quantity Alloy Steel Seamless Pipes Buyer |
| Surplus Seamless Cr-Mo Thin Wall Pipes Importer | Second Choice Alloy Steel Seamless Pipes Importer |
| Alloy Steel P11 Excess Quantity Seamless Secondary Pipes Customer | Alloy Steel Excess Quantity Seamless pipes Importer in India |
| Surplus Black and Galvanized Steel Seamless Pipes Importer | Second Choice Carbon Seamless Pipes Customer |
| Low Alloy Steel Excess Quantity Seamless pipes Buyer | Excess Quantity Alloy Steel Seamless Pipes Importer |
| Second Choice Alloy Steel P22 Seamless Pipes Customer | Secondary Alloy Steel Seamless Pipes Purchaser |
| Second Choice Alloy Steel Seamless Pipes Buyer | Secondary Alloy Steel Thick Wall Seamless Pipes Buyer |
| ASTM A335 Alloy Steel Surplus Seamless Pipes Purchaser in Mumbai | ASTM A335 Second Choice P91 Chromium Moly Seamless Pipes Importer In India |
Alloy Steel Surplus Seamless Pipes
Buyer of Secondary / Second Choice / Surplus / Excess Quantity Alloy Steel Seamless Pipes Used in Follwing Applications:
• Alloy Steel Seamless Pipe used and Excess in Oil and Gas Pipeline
• Alloy Steel Seamless Pipe used and Excess in Chemical Industry
• Buyer of Secondary Alloy Steel Seamless Pipe in Plumbing
• Chromium Moly ASME SA335 P9 Seamless Pipe used and Excess in Heating
• ASME SA335 P11 Alloy Steel Seamless Pipe used and Excess in Water Supply Systems
• Second Choice Alloy Steel Seamless Pipe in Power Plant
• Second Choice Alloy Steel Seamless Pipe in Paper & Pulp Industry
• Alloy Steel Seamless Pipe used and Excess in General Purpose Applications
• Importer Excess Quantity Alloy Steel Seamless Pipe in Fabrication Industry

Import Destinations of Secondary / Second Choice / Surplus / Excess Quantity Alloy Steel Seamless Pipes
MIDDLE EAST

» Saudi Arabia
» Iran
» Iraq
» Uae
» Qatar
» Bahrain
» Oman
» Kuwait
» Turkey
» Yemen
» Syria
» Jordan
» Cyprus


AFRICA

» Nigeria
» Algeria
» Angola
» South Africa
» Libya
» Egypt
» Sudan
» Equatorial Guinea
» The Republic Of Congo
» Gabon


NORTH AMERICA

» Usa
» Canada
» Mexico
» Panama
» Costa Rica
» Puerto Rica
» Trinidad And Tobago
» Jamaica
» Bahamas
» Denmark

EUROPE

» Russia
» Norway
» Germany
» France
» Italy
» Uk
» Spain
» Ukraine
» Netherland
» Belgium
» Greece
» Czech Republic
» Portugal
» Hungary
» Albania
» Austria
» Switzerland
» Slovakia
» Finland
» Ireland
» Croatia
» Slovenia
» Malta

ASIA

» India
» Singapore
» Malaysia
» Indonesia
» Thailand
» Vietnam
» South Korea
» Japan
» Sri Lanka
» Maldives
» Bangladesh
» Mayanmar
» Taiwan
» Cambodia

SOUTH AMERICA

» Argentina
» Bolivia
» Brazil
» Chile
» Venezuela
» Colombia
» Ecuador
» Guyana
» Paraguay
» Uruguay
Second Quality Excess Quantity Alloy Steel Seamless Pipe | Low Secondary Alloy Steel Seamless pipe Purchaser | Secondary Alloy Steel Thick Wall Seamless Pipes Buyer | Second Choice Alloy Steel Seamless Pipe Buyer | Buyer of Surplus Alloy Steel Seamless Pipe Size | ASTM A335 Second Choice Alloy Steel Seamless Pipes Importer | Purchaser of Surplus Black and Galvanized Steel Seamless Pipe | Second Choice Alloy Steel Seamless Pipe Buyer
If you're looking for a trusted and reliable supplier of Secondary / Second Choice / Surplus / Excess Quantity Alloy Steel Seamless Pipe Importer then call APOLLON STEEL INC today on +91 22 6659 5932 / 2381 2828, Email: info@apnsteel.com