Secondary Seamless Assorted and Block Assorted Pipe Importer
Surplus MS Seamless Assorted Pipe Purchaser in Khetwadi, Purchaser of Excess Quantity Block Assorted Pipes in Mumbai, CrMo Seamless Assorted & Block Assorted Pipes Importer, Defective Chromium Molybdenum Seamless Assorted Pipes Buyer, Surplus Seamless Assorted and Block Assorted Pipe Importer in India, Secondary Chrome Moly Block Assorted Pipes Purchaser in India.
APN Steel is the renowned importer of Secondary and Surplus Seamless and Block Assorted Pipes. These pipes and other products are purchased only in prime and good quality. The Secondary pipes are available in several materials including, Stainless Steel, Hastelloy, Monel, Inconel, Nickel, etc., and in various grades. We pride ourselves on the high quality and low costs of our Pipes and visually ideal and prefer a more cost-effective alternative. This Defective pipes are still functional and robust but may have minor faults. Dealing with Surplus Seamless Assorted Pipes has numerous advantages over working with prime steel Pipes, also they are used in many small and large industrial applications.
These Assorted Pipes are available in sizes, ranging from 30MM to 800M, and the thickness of these pipes is 5 mm and above. Additionally, hot-rolled pipes and galvanized pipes are available.As a leading Block Assorted Pipes importer, we provide a diverse selection of secondary steel pipes that may be the ideal match for every project. These pipes are generally used in Oil and Gas Wells. It is installed at shallow depths near the surface to protect water sands from contamination or leakage of drilling fluids from the oil or gas drilling project. Secondary steel Pipes are the most cost-effective option for small businesses that cannot afford or do not require prime metals.
Buy Secondary Seamless Assorted & Block Assorted Pipe - Supply is Our Specialty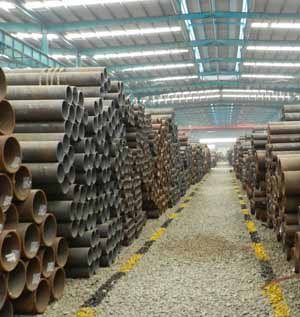 Specification Of Secondary / Defective / Surplus Seamless Assorted & Block Assorted Pipe We Import
Dimensions : ASTM, ASME and API
Size (Seamless) : 30 MM To 800 MM In Thickness Of 5 MM And Above
End : Plain End, Beveled End, Screwed, Treaded
Length : Single Random, Double Random & Required Length, Custom Size
We Buy Secondary / Defective / Surplus Seamless Assorted & Block Assorted Pipes Like
| | |
| --- | --- |
| Defective Block Assorted Black Carbon Steel Pipes Importer | Secondary Large Diameter Chromium Moly Seamless Assorted Pipes Buyer |
| Excess Quantity CrMo Block Assorted Pipes Buyer | Defective Seamless Assorted Black Steel Pipes Importer |
| Defective Chromium Moly Seamless Assorted Pipes Importer | Excess Quantity Carbon Steel Block Assorted Pipes Customer |
| Surplus CrMo Seamless Assorted Pipes Importer | Secondary Alloy Steel Block Assorted Pipes Customer |
| Carbon Steel Second Choice Seamless Assorted Pipes Purchaser | Top Quality Chrome Moly Surplus Block Assorted Pipes Buyer |
| Carbon Steel Secondary High Yield Seamless Assorted Pipes Buyer | ASTM A335 Alloy Steel Secondary Block Assorted Pipes Purchaser |
| ASTM A335 Gr P1 AS Defective Block Assorted Pipes Importer in Mumbai | Secondary CrMo Seamless Assorted Pipes Purchaser in India |
| ASTM S/A 53 Gr B Secondary Block Assorted Pipes Buyer | ASTM S/A 106 CS Defective Seamless Assorted Pipes Importer |
| Alloy Steel Surplus Block Assorted pipes Importer | Low Carbon Steel Secondary Seamless Assorted pipes Buyer |
| Surplus Alloy Steel Schedule 40 Block Assorted pipes Importer | Carbon Steel Secondary Seamless Assorted Pipes Importer |
| Surplus Seamless Assorted Carbon Steel Schedule 80 Pipes Importer | Defective CS Block Assorted Pipes Purchaser |
| Galvanized Alloy Steel Surplus Seamless Assorted Pipes Importer | Surplus Carbon Block Assorted Pipes Customer In India |
Secondary / Defective / Surplus Seamless Assorted & Block Assorted Pipes
Secondary / Defective / Surplus Seamless Assorted & Block Assorted Pipes Used In Following Applications:
• Research & Development Excess Quantity CrMo Block Assorted Pipes Buyer
• Mega Projects & Defense & Development Industries Defective Seamless Assorted Alloy Steel Pipes Importer
• Pulp & Paper Indusry Excess Quantity Carbon Steel Block Assorted Pipes Customer
• Petrochemical Industry Secondary Seamless Assorted Pipes Importer
• Chemical Industry Surplus Seamless Assorted Carbon Steel Schedule 80 Pipes Importer
• Nuclear Power Plant Surplus Carbon Block Assorted Pipes Customer
• Oil and Gas Industry Black and Galvanized Surplus Seamless Assorted Pipes Importer
• Water Supply Systems Defective Block Assorted Black Pipes Importer
• Fabrication Industry Secondary Large Diameter Chromium Moly Seamless Assorted Pipes Buyer
Import Destinations of Secondary / Defective / Surplus Seamless Assorted & Block Assorted Pipes
MIDDLE EAST

» Saudi Arabia
» Iran
» Iraq
» Uae
» Qatar
» Bahrain
» Oman
» Kuwait
» Turkey
» Yemen
» Syria
» Jordan
» Cyprus


AFRICA

» Nigeria
» Algeria
» Angola
» South Africa
» Libya
» Egypt
» Sudan
» Equatorial Guinea
» The Republic Of Congo
» Gabon


NORTH AMERICA

» Usa
» Canada
» Mexico
» Panama
» Costa Rica
» Puerto Rica
» Trinidad And Tobago
» Jamaica
» Bahamas
» Denmark

EUROPE

» Russia
» Norway
» Germany
» France
» Italy
» Uk
» Spain
» Ukraine
» Netherland
» Belgium
» Greece
» Czech Republic
» Portugal
» Hungary
» Albania
» Austria
» Switzerland
» Slovakia
» Finland
» Ireland
» Croatia
» Slovenia
» Malta

ASIA

» India
» Singapore
» Malaysia
» Indonesia
» Thailand
» Vietnam
» South Korea
» Japan
» Sri Lanka
» Maldives
» Bangladesh
» Mayanmar
» Taiwan
» Cambodia

SOUTH AMERICA

» Argentina
» Bolivia
» Brazil
» Chile
» Venezuela
» Colombia
» Ecuador
» Guyana
» Paraguay
» Uruguay
Importer of Excess Quantity Alloy Steel Seamless Pipe | Low Secondary Alloy Steel Seamless pipe Purchaser | Secondary Alloy Steel Thick Wall Seamless Pipes Buyer | Second Choice Alloy Steel Seamless Pipe Buyer | Buyer of Surplus Alloy Steel Seamless Pipe Size | ASTM A335 Second Choice Alloy Steel Seamless Pipes Importer | Purchaser of Surplus Black and Galvanized Steel Seamless Pipe | Second Choice Alloy Steel Seamless Pipe Buyer
If you're looking for a trusted and reliable supplier of Secondary Defective Surplus Seamless Assorted Block Assorted Pipes Importer then call APOLLON STEEL INC today on +91 22 6659 5932 / 2381 2828, Email: info@apnsteel.com